Posted on 31 Jan 2019
RE100, Global Industry's Commitment to Renewable Energy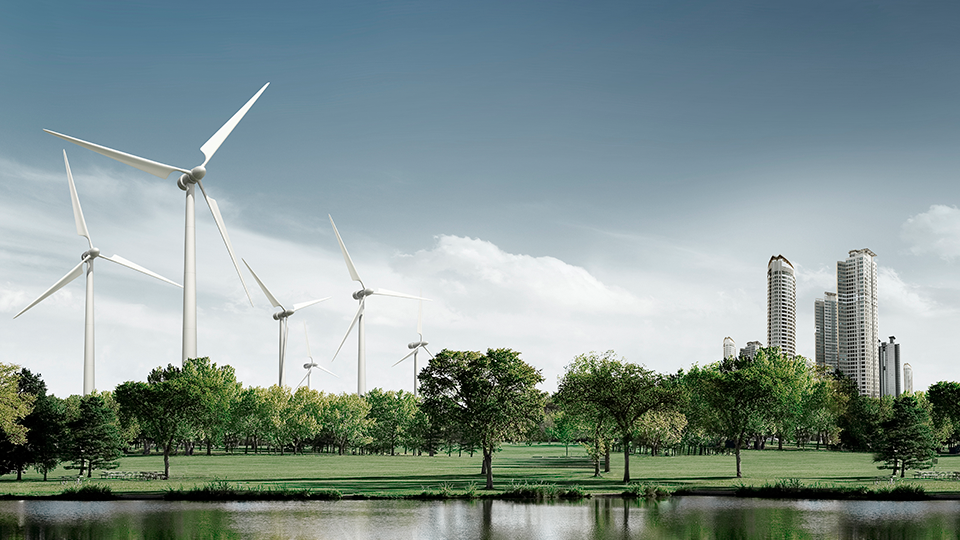 The shift in climate and energy paradigm necessitated a change in the role of global companies – a majority of leading global enterprises are now transitioning to renewable energy. POSCO is also part of such development, and the company stepped up in their renewable endeavor by building the eco-friendly and energy-saving 'POSCO Green Building' in 2013. POSCO Newsroom reports how the global paradigm shift is affecting Korean industries and discusses the potential implications.
More than 150 global businesses set a public goal to source 100% of their electricity consumption from renewables. Shifting away from the traditional use of fossil fuels, the companies are identifying this shift as an opportunity to reduce green gas emission thereby minimizing their environmental impact and support cleaner energy alternatives – while also meeting the demands of the environmentally conscious communities, customers and investors. Increasingly, there are compelling business cases for switching to renewables – more companies are transitioning to renewables to reduce the energy costs.
l What is RE100?
RE100, meaning Renewable Energy 100%, is an initiative seeking to source 100% of electricity consumption from renewables. A UK nonprofit CDP introduced the initiative in 2014 in partnership with the Climate Group. The member companies are energy consumers, not producers, who work together to increase demand for – and delivery of – renewable energy. The voluntary membership involves coming up with their own renewable energy consumption target and the year, and the participating companies submit performance reports annually in accordance with the technical standards provided by RE100. The eligible renewable energy sources are biomass, biogas, geothermal, solar, wind and hydropower.
l How RE100 Emerged
1. Favorable Political Climate
Governments around the world set bold targets to supply renewable energy. Their support for renewables through subsidies, tax benefits, and deregulations alleviated anxieties about investing towards renewables. To meet their goal for renewable energy supply, governments are likely to maintain such policy atmosphere by identifying obstacles from investors' perspectives and offering practical solutions.
<Renewable energy targets set by governments>
It was the European governments who took to transforming the global energy market early on, seeking to accelerate the expansion of renewables. The European Union set a binding renewable energy target of at least 32% by 2030. All EU countries hold national renewable energy action plans and strive to meet the shared goals as members of the EU community.
Even within the EU however, the reality of each country's renewable energy varies. Denmark who has the highest proportion of wind power in the world naturally set a bold goal of 100%. Meanwhile, countries like France with less favorable infrastructure for renewables proposed a lower target of 40%. The circumstances were similar for the countries with high dependence on the existing energy infrastructures like nuclear power plants.
Asian and Latin American countries came on board at a relatively later date. Due to the difficulty in securing supply chains as well as the sheer lack of professional services in the renewable sector, these countries presented with more conservative goals.
2. Increased competitiveness of renewables
Renewable-related technologies and facility efficiencies continue to evolve, improving the cost competitiveness of renewables accordingly (e.g. solar energy: $304/MWh → $86 MWh). Furthermore, tighter regulations on fossil fuels and nuclear power are bringing down the appeal toward those energy sources, and the business case for switching to renewables is more compelling than ever.
3. A major shift in the consumer landscape – consumer roles expanded
More companies are sourcing their energy that reflects community values, leaning towards more sustainable energy sources. Low cost and stable energy supply are no longer default preferences for the leading global companies. Corporate responsibility to limit our environmental impact is increasingly becoming a critical factor in their business decisions.
l Performance Records of RE100 Partner Companies
Launched in 2014, the number of companies joining RE100 initiative has been steadily increasing: a total of 160 companies (as of January 2019 ). Companies like Google, Microsoft, Starbucks, and Mark & Spencer have already announced their successful 100% shift to renewables.
No Korean companies have yet to join the RE100 initiative, though Greenpeace is consistently calling on Korean companies to lead by example and exercise their corporate responsibility. Considering the esteemed market status and influence, Greenpeace officially demanded Samsung Electronics to declare a shift to renewables. In response, Samsung announced a plan to expand their use of renewable energy to 3.1GW in all its sites across the globe (as of June 2018). Within Korea, the company is in the process of installing solar panels at their production facilities in Suwon, Hwaseong, and Pyeongtaek. SK Hynix, South Korean memory semiconductor supplier and the world's second-largest memory chipmaker after Samsung Electronics, also aims to go 100% renewable at its overseas plants in China by 2020. SK Hynix further announced their 2022 ECO vision, purported to cutting greenhouse gas emissions by 40% compared to 2016.
<Targets set by key partner companies>
l Potential Implications for the Korean Companies
Compared to Korean companies, the RE100 partner companies currently implementing their energy shift commitments, operate in a relatively favorable atmosphere. For them, renewables are readily available at lower costs, whereas Korean companies must overcome several hurdles beforehand. With no secure transaction route in place, Korean companies should pay a considerably higher sum to purchase renewables. What must precede is political and institutional changes that help pave the way towards reasonable costs and availability.
Because an electricity market reform is yet to take place in Korea, the industry option for renewable energy purchase is minimal. Companies in the United States and Europe who underwent the restructuring earlier can purchase renewables through various methods like Power Purchase Agreement (PPA), self-consumption, green pricing, unbundled certificates, etc. In Korea, the only available legal option is self-consumption. Grid parity, which indicates the level of cost competitiveness of renewables – compared to existing energy sources like thermal and nuclear – is much lower compared to those in Europe and North America. There, renewable energy has been active since the early 2000s.
Therefore, Korean companies must overcome challenging circumstances to be more proactive about purchasing renewables. What needs to happen is securing purchase routes for Korean companies for renewable energy source through institutional reforms. The Korean government is recognizing such institutional hurdles and plans to introduce premium pricing schemes within the year. They are also reviewing other reforms like PPA. Korean companies, on their part, need to become selective about the system that works for them, establishing a review plan for a preemptive application to minimize the costs.
Nevertheless, the policy and market shift propelled by RE100 are likely to increase the burdens on Korean companies. Increasingly the RE100 participating companies are demanding commitments to renewables not just from within, but from their partner companies in their supply chain. Apple has asked their partner companies to use renewables, and Korean battery companies also received similar requests. Going forward, companies sourcing their energy elsewhere other than renewables might face adverse circumstances in their contracts.
Now is the time for Korean companies to step up and take ambitious corporate action by switching to renewables to meet the demands of global clients and stakeholders, and by redefining their community and economic values. Furthermore, it's important to make smart strategic decisions by utilizing their own resources to remain competitive in the global market. Above all, the companies must face the realities of energy transition head-on and establish strategies that respond to the demands of the time and the global community we all belong.