Posted on 10 Mar 2023
10 Longest Bridges in Southeast Asia
Southeast Asia is the most diverse region on earth. Its future looks promising as the economy is booming with strong fundamentals which further accelerate growth. As countries develop, there is a need for better infrastructure to increase the competitiveness.
Over the years, countries in Southeast Asia have constructed many interesting bridges. Here are the top 10 longest bridges in Southeast Asia.1
Sultan Haji Omar Ali Saifuddien Bridge, Brunei
Sultan Abdul Halim Muadzam Shah Bridge, Malaysia
Penang Bridge, Malaysia
Industrial Ring Road Bridge, Thailand
Bali Mandara Toll Road, Indonesia
Cebu–Cordova Link Expressway, Philippines
Thanlwin Bridge, Myanmar
Pakokku Bridge, Myanmar
Đình Vũ – Cát Hải Bridge, Vietnam
Suramadu Bridge, Indonesia
Sultan Haji Omar Ali Saifuddien Bridge, Brunei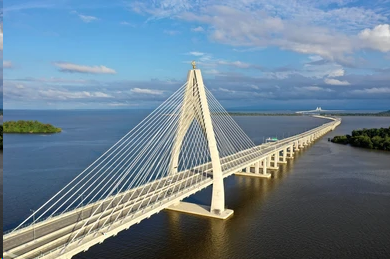 This bridge measures 30 km. It was opened in March 2020 with the aim to connect the Temburong district to the mainland. The construction of the bridge consists of box grinder and cable-stayed bridge that cross the Brunei Bay.2
Sultan Abdul Halim Muadzam Shah Bridge, Malaysia
This is the second longest bridge in Southeast Asia which measures 24 km. The design consists of cable stayed and box girder bridge.3 The bridge has held an annual marathon event, making it the longest bridge marathon in the world.4
Penang Bridge, Malaysia
The Penang bridge is a 13.5 km toll bridge and highway which connects Butterworth with the island. The cable-stayed bridge with beam and slab deck was opened to public in year 1985.5
Industrial Ring Road Bridge, Thailand
Also known as Bhumibol Bridge, the bridge measures 13 km. The bridge connects the Chao Phraya River with two striking cables-stayed to support the outer edges of the decks.6 The bridge aims to transport goods from Bangkok Port to industrial areas to ease the traffic in the area.7
Bali Mandara Toll Road, Indonesia
The toll road is built over the sea to connect with a bridge stretching across the Gulf of Benoa with a length of 12.7 km. The construction of the bridge was to reduce traffic jams.8 This structure used precast-prestressed-concrete slab, consist of 7.5 meter long supported on precast pile cap.
Cebu–Cordova Link Expressway, Philippines
Cebu-Cordova links Cebu City to Cordova town. Cebu's new icon measures 8.9 km. It is the longest cable-stayed bridge in the Philippines.9 The bridge helps to reduce traffic and increase economic activities throughout the region.10
Thanlwin Bridge, Myanmar
It is the longest bridge in Myanmar measuring 6.6 km. Located between 184 kilometres and 185 kilometres on Namhsam-Mongnai-Mongton-Monghsat road section, it has a load capacity of 75-tonne.11 This is a steel frame truss bridge, designed and built by Ministry of Construction.12
Pakokku Bridge, Myanmar
This is a rail and road bridge measuring 6.3 km across the Irrawaddy River in Myanmar's Pakokku town. It is a broad crested type bridge with 512 feet long approach and 850 feet long approach embankment.13
Đình Vũ – Cát Hải Bridge, Vietnam
The sea bridge measuring 5.4 km is expected to reduce travel time and transportation risks. The bridge is built by balanced cantilever technology with a total volume of about 80 tons. It plays an important role to boost Hai Pong's coastal economic development, attract investors and promote tourism in the UNESCO-recognised Cat Ba Biosphere Reserve and neighbouring areas.14
Suramadu Bridge, Indonesia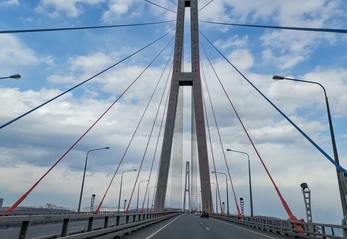 Suramadu bridge connects Madura Strait, linking Java Island and Madura Island with a length of 5.4 km. It was built to develop the economic infrastructure of Madura Island.15 The cable-stayed bridge is the first bridge to cross the Madura Strait.16
What are the benefits of steel for bridge construction?
Offers high strength-to-weight ratio which minimize the weight of bridge structures.
Around 99% of steel from demolished materials are reused.
Steel can be formed into any types of shapes to create any bridge design.
The components are constructed offsite which later shipped to the location to be assembled. This reduces the construction period from months or years to days or weeks.
Steel bridges are safer and less likely to collapse.
Steel bridges last longer which do not require frequent replacement. It is less likely to be damaged in extreme weather.17
Conclusion
Majority of the bridges in Southeast Asia are constructed using cable-stayed bridge. Steel truss bridge are also used as an alternative for bridge construction. Usage of steel in bridges depends on the type of bridge.
For centuries, steel has been used in various applications such as bridges due to its unique properties. As long as bridges are required the demand for steel will remain paramount.
Sources:
1 Future Southeast Asia
2 Wikipedia Sultan Haji Omar Ali Saifuddien Bridge, 2022
3 Sultan Abdul Halim Muadzam Shah Bridge, 2023
4 Lexissuites penang, 2022
5 Institution of Civil Engineers, 2023
6 Mott MacDonald, 2023
7 Royal Thai Embassy Singapore 2010
8 Wikiwand
9 Wikipedia, Cebu–Cordova Link Expressway, 2023
10 Cebu Cordova Link Expressway Corp
11 The Global New Light of Myanmar, 2022
12 Wikipedia, Thanlwin Bridge (Mawlamyine), 2022
13 Wikipedia, Pakokku Bridge
14 Socialist Republic of Vietnam, Ministry of Transport, 2017
15 eastjava.com, Surabaya Tourism, 1998-2019
16 Wikipedia, Suramadu Bridge, 2022
17 BMI
Source:SEAISI