VN Jan-July trade deficit hits $3.08b
Source: Viet Nam News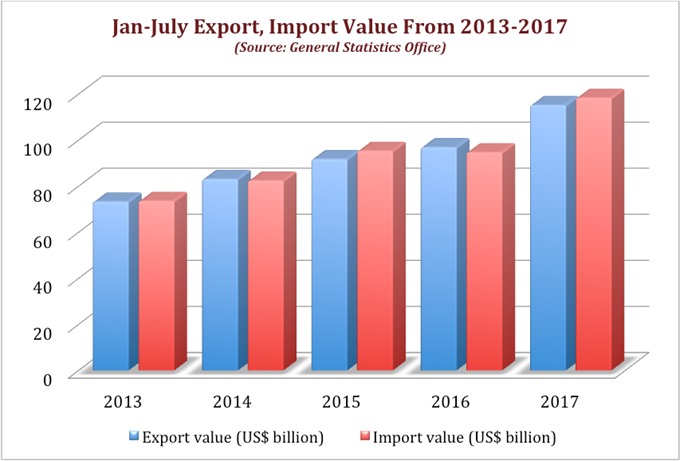 Jan-July Export, Import Values From 2013-2017. — VNS Photo Linh Anh

Việt Nam's trade deficit was estimated at US$3.08 billion in the first seven months of this year, $380 million more than $2.7 billion in the first half, according to the latest data released by the General Statistics Office (GSO).
The trade deficit from January-July equaled 2.7 per cent of the country's export revenue in the period, GSO said.
The office said the trade deficit was driven by an upward trend in imports, due to high demand for manufacturing, processing, and exporting.
During the period, the trade deficit incurred by the domestic sector totaled $14.7 billion, while the foreign-invested sector continued its trade deficit with a mark of $11.69 billion.
Import turnover during the first seven months jumped by 24 per cent year-on-year to $118.3 billion, with imports by the domestic sector touching $46.9 billion, an 18.4 per cent increase, while those of the foreign-invested sector were $71.4 billion, an increase of 24 per cent.
The import value registered a year-on-year surge of 37.4 per cent for machines, equipment, tools and components to reach $21.4 billion, 30.6 per cent for telephone and its components to reach $7.3 billion, 27.4 per cent for electronic products, computer and their components to reach $19.2 billion and 16.7 per cent for steel to reach $5.2 billion.
China still accounted for the largest share of Việt Nam's imports at $31.7 billion, a year-on-year surge of 15.8 per cent. The Republic of Korea and ASEAN came second and third with $26.7 billion and $16 billion respectively.
Meanwhile, export turnover during seven months rose 18.7 per cent year-on-year to $115.2 billion. Of the estimate, exports by the domestic sector totaling $32.2 billion, a 14.6 per cent increase, while those of the foreign-invested sector reached $83.1 billion, an increase of 20.3 per cent.
The first seven months of 2017 continued to see steady growth of Việt Nam's main exports, with phones and components up 15 per cent to $22.6 billion, garments up 8.1 per cent to $14.2 billion and footwear up 12.9 per cent to $8.4 billion.
Other key exports such as machinery, seafood, timber and coffee posted strong growth.
The United States remained the largest consumer of Vietnamese goods at $23.4 billion, followed by the EU and China at $21.5 billion and $15.5 billion, respectively.